Imo State based radio station The Reach 104.9 FM has sanctioned one of their presenters for making derogatory statements against radio callers from Imo State on social.
The presenter Tobore Orume took to Facebook to write that callers from Owerri are uncultured and ill-mannered causing outbursts against him and the radio station.
"Owerri Radio Callers are the Worst set of people I have met on this radio jab [SIC] Very uncultured and ill mannered [SIC] ….And always talking off Point …..that's all I can say," he wrote.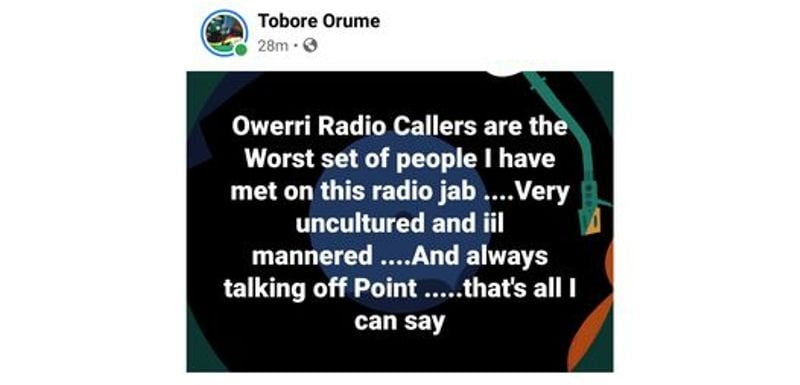 Although he deleted the post after realizing he had bitten off more than he can chew, the damage had already been done.
Tobore Orume apologized after, saying he made the post under uncontrolled emotions and did not mean to generalize the statement to entire callers.
"My Good people of Owerri, I wish to categorical state that I am deeply sorry for my initial update.
That was due to uncontrolled emotions, I didn't mean to generalize it to the entire callers.
But I was shocked at the fact that a caller wished me death on a radio program.
Out of shock, I posted out of thought.
Pls. bear with me and understand my feelings about the situation.
Once again I am deeply sorry.
-Tobore Orume"
However, the management of The Reach 104.9 FM has issued a public statement saying that Tobore Orume has been sanctioned.
Although the gravity of the punishment melted to the presenter was not disclosed, the radio station further apologized to their listeners, saying that they fold their hands and watch their clients and listeners being insulted by any of their staff.
The statement reads:
The management of THEREACH104.9fm is not unaware of the trending comments on social media concerning a derogatory comment made by one of our presenters. Management does not wish to embarrass our listeners neither fold their hands and watch our clients and listeners insulted by any of our staff.
We have total respect and value for our esteemed listeners. The view and options of callers are highly paramount to use as watch-dogs of the society.
We wish to let our listeners know that such staff has been sanctioned for his actions.
We render our unreserved apology to our listeners and promise to serve them satisfactorily this 2021.