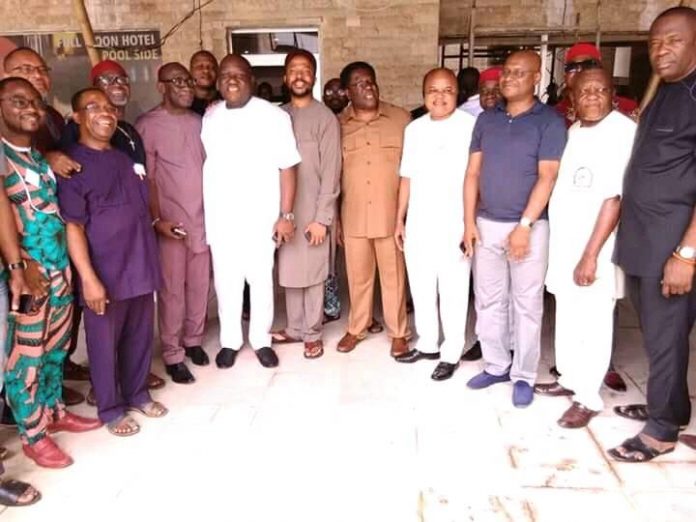 Ahead of the 2019 elections in Imo State, a major breakthrough has been recorded in the State with some prominent chieftains of Imo APC Coalition reportedly collapsing into the All Progressive Grand Alliance, APGA.
The Imo APC Coalition is a group of politicians in the party who were struggling for the soul of the party in the State with Governor Rochas Okorocha. Series of political developments including legal brack bats had favoured the Okorocha camp which appears to have broken the back bone of the Coalition.
The Coalition is made up of Imo State Deputy Governor, Eze Madumere, Senator Ifeanyi Araraume, Senator Benjamin Uwajumuogu, Senator Osita Izunaso, TOE Ekechi and others.
This newspaper had reported last week that there was a split among members of the Coalition over the planned move to APGA.Top chieftains of the Coalition later denied the report.
One of the arrow heads of the Coalition, Senator Araraume joined by a former National Organizing Secretary of the APC, Senator Osita Izunaso later approached the national leadership of APGA preparatory to joining the cock party.
While Araraume maintained sealed lips on the outcome of a meeting with the APGA National Chairman, Victor Oye, Izunaso said consultations were still ongoing.
The consultations may have yielded positive results as reports filtered that an alliance has been consummated. This newspaper was informed that some Coalition members had obtained APGA Forms at the ward levels even when consultations were ongoing.
Senator Araraume who has refused to openly admit he is on his way to APGA is also speculated to have obtained the Nomination and Expression of Interest forms to vie for APGA governorship primaries.
A reliable source said the Senator who is making his fourth attempt to become Imo State Governor is now set to officially announce his declaration for APGA this week alongside some members of the APC Coalition who agreed to join the cock party.
Reports which surfaced on the social media claimed that the alliance between APGA and the Coalition members was consummated on Sunday at a meeting presided by APGA's National Chairman, Victor Oye and Secretary,Labaran Maku.
Oye reportedly assured the new entrants of a level playing ground, hailing the invaluable contribution of Anambra State Governor, Willie Obiano, Senator Victor Umeh and members of the National Working Committee, NWC that participated in the discussions at very critical stages of the alliance.
-INNONEWS-