Afowiri Kizito Fondzenyuy has now completed more than 419 miles (673 km) in 16 marathons after completing the 2023 edition of the Sydney Marathon.
Taking the Toghu Marathoner brand to another level, he ran the 26.2 miles (42.195 km) Sydney Marathon in 5 hours, 28 minutes and 33 seconds, at a temperature of 87°F ~ 30.1°C, an experience he has tagged fantastic.
Having been involved in marathons across Europe, America and Australia, the Cameroonian born social entrepreneur looks to run across all continents including Antarctica with his eyes set on Tokyo Japan in March 2024.
Tokyo will see him complete all six Marathon Majors with three of them – London, Boston and Tokyo in Toghu.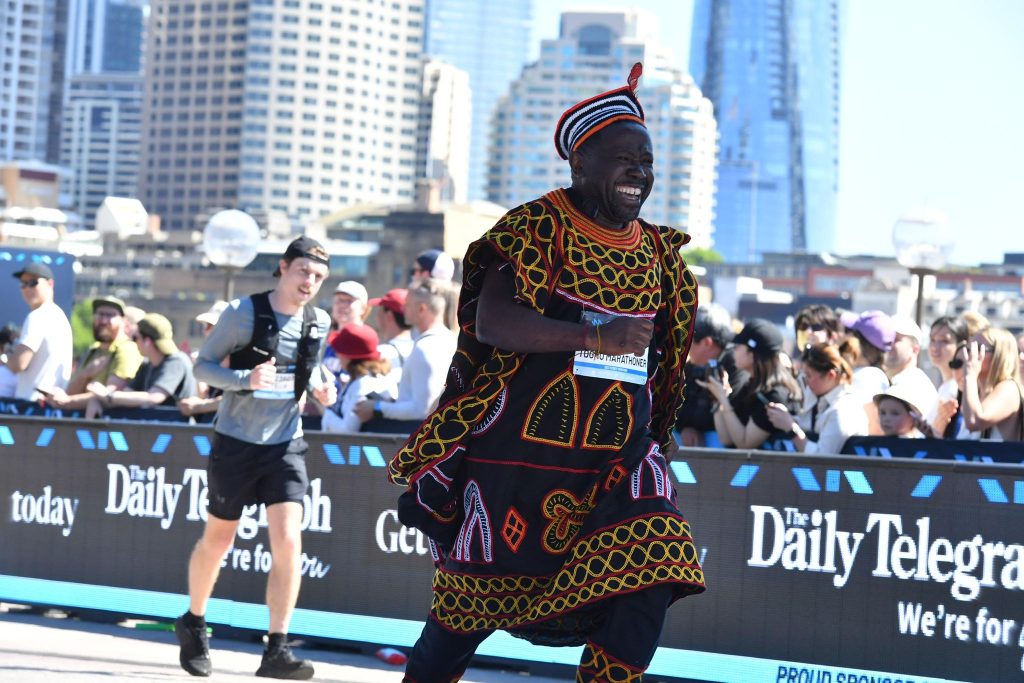 "There are things you can't always explain and this is one of them. The experience is massive and it is often like waking in a dream land because this means so much for me", he said.
Having been involved in both Boston and Sydney Marathons in 2023, Afowiri said that one thing he has come to enjoy is how people look forward to seeing him in Marathons.
"The Toghu Marathoner brand is becoming very massive, thanks to people who are following and supporting the work we are doing"
"People now appreciate the idea and everything it stands for knowing how much it means to me and my people in North-West Cameroon"
"I always feel like I have everyone running with me and that has been my strength because you can imagine why I want to run for more than five hours; it keeps becoming clearer to me because I now see that I carry the strengths of my family, friends, supporters and tribe. It is fantastic", he said.
Afowiri Kizito Fondzenyuy keeps breaking his own records as he is now the first person to run four marathons in Toghu as well as the fastest man to do the same.
He exposed the Toghu Marathoner brand and attire to 17,000 runners at the marathon, millions of cheering Australian fans and others around the world.
The Toghu Marathoner was also featured by the Australian Daily Telegraph Newspaper as a major marathon highlight.
On the next step and what to do with the records he is setting for himself, Afowiri said that he wants to make the Toghu Marathoner brand global, but added that the records are not personal to him, but he will keep breaking them as long as his legs can carry him.
He said that knowing that he is carrying the weight of an entire clan on his shoulders keeps him moving, adding that, his source of inspiration is beyond self.
Afowiri said that he pulls his inspiration from the new generation of Cameroonian children in the diaspora who can now proudly identify themselves with their roots through Toghu.
He further stated that his endeavors as the Toghu Marathoner has had great impact on kids through his fundraising activities and most of all, his children.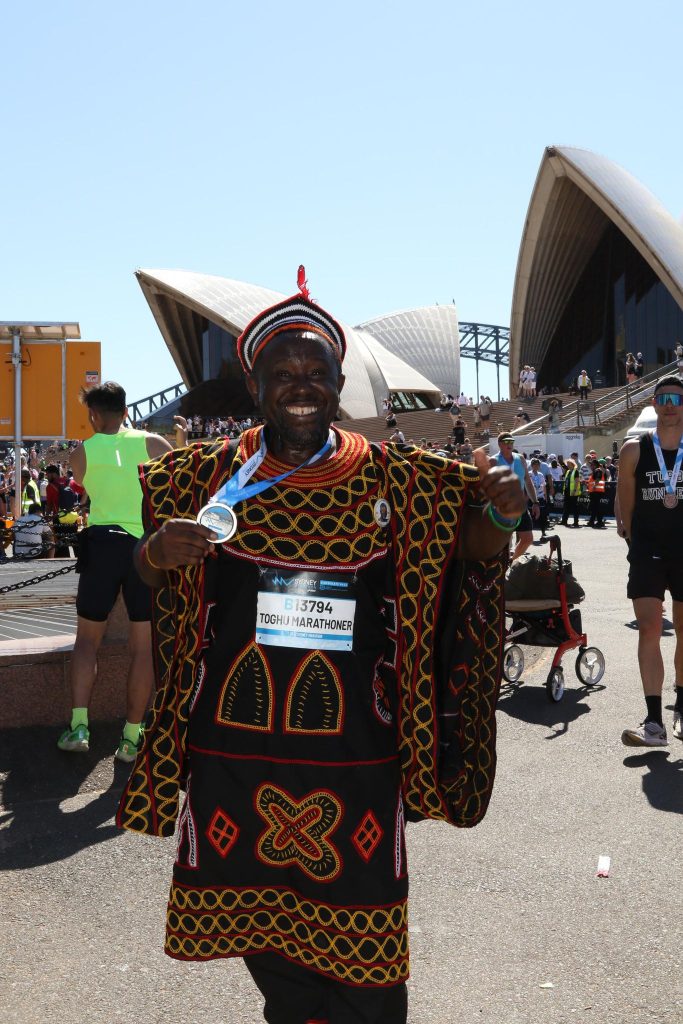 "Toghu is dear to my people, the patterns and colors say a whole lot about who we are and it is a great thing that beyond the exposure for the outfit, my exploits are also inspiring people back home and around the world. This will be a platform for me campaign for the things I believe in, especially practical education for kids and researches"
"It takes a lot to prepare for a marathon so while I want to enjoy the success of Sydney, I want to also get back to work as I have Tokyo knocking by March 2024", he said.