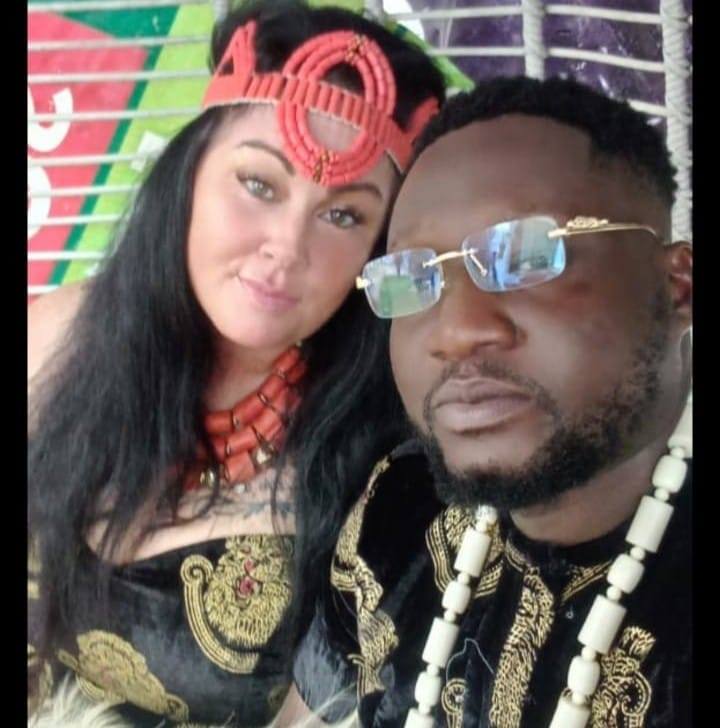 It was obvious Agu Otu Ukwu of Dtwins will not be the last in the story as another Imo based artist has traditionally wedded his American lover in Owerri, the state capital.
Yopy Diamond, former of the Ryders known for the song 'I'm a virgin' recently shared photos of him getting married to his North American lover Ashley Elaina MacNeil.
Yopy shared photos of their traditional wedding with the couple rocking the famous Isi Agu outfit.
Another video shared by Baffkrazzy Dezignz who designed their outfits, showed Ashley dancing with her husband Yopy and no matter the angle you view it, all you'll see is love, joy and happiness.
So far it has been raining congratulations on the timelines of the couple as friends and well-wishers pray the best comes out of the union.
Agu Out Ukwu sets the ball rolling
Earlier this year, it was Agu Otu Ukwu of the Dtwins who finally unveiled his 'Dinora' in what turned out to be a real marriage against the video shoot most people had thought it would be.
Agu Otu Ukwu and Yopy are not the only Imo artistes married to American or European ladies.
OtownGist can authoritatively state that earliest in the league were some artists who made hits between 2005 and 2009, but the difference is that they did not bring their lovers down to Owerri unlike recent cases.
It is always a joyful thing for a man and woman to come together as husband and wife. We wish both couples a happy married life.
WATCH THE FAMOURS I'M A VIRGIN BY RYDERS RELEASED IN 2014