The Vice Chancellor of Imo State University, Prof Adaobi Obasi has said, the fact she is the first female Vice Chancellor of IMSU is the reason she has remained firm in the face of all challenges and attacks against her person and office.She stated that any action she takes now will affect the perception of the society about the women folks either positively or negatively, hence she has been mindful of her conducts and decisions.
The IMSU VC stated this when a delegation of the newly elected National Executive of Orluzurumee Youth Assembly led by the president, Engr. Sylvester Anyikwa paid her a courtesy visit in her office, yesterday.
According to Prof. Victoria Adaobi Obasi who is a patron of the group, sometime in the past, she had almost resigned her position following the desperation of some persons who wanted to be VC at all costs but when she remembered the perception society holds against women in public offices and how her decisions will affect them, she had a rethink. Today, "I am proud to say, I have made Nigerian women proud through my achievement as Vice Chancellor", she uttered.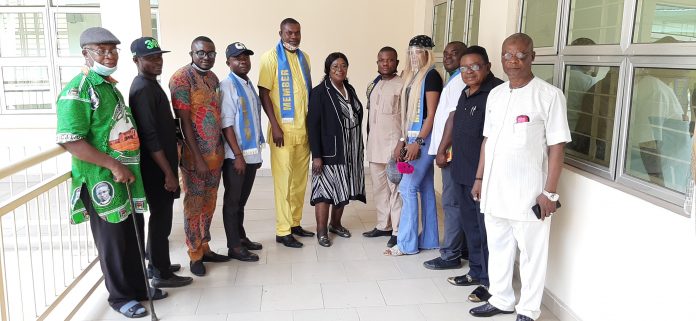 Adaobi boasted that her administration has brought about infrastructural and academical developments mentioning in particular her efforts at securing accreditation for all the departments in IMSU, including Medicine and Surgery that had no accreditation, long before her assumption of office.
She regretted that some of those who desperately wanted to replace her fail to realize that her office enjoys statutory flavour in line with extant laws establishing Universities in Nigeria.
Earlier, the President of Orluzurumee Youth Assembly. Engr. Sylvester Anyikwa thanked the Vice Chancellor for finding time to meet with his newly elected executive members. He assured that the group under his leadership will continue to maintain the values for which it is known while also pledging total support to her.
Anyikwa commended Obasi for her giant strides in the University, saying that the school which he visited some years back is now wearing a new look. "As Orlu people, we are not ignorant of the fight against you and desperation of some persons to unseat you. We hope that those fighting you will realize that blackmail doesn't pay. If they feel they have facts against you, they should make them public, not peddling falsehood", he declared.
He went ahead to appreciate the maturity the Vice chancellor has shown in the face of all the attacks on her, including the allegation that her son owns a company that collects school fees from students which has turned out to be false claims.
Anyikwa further stated that his executive has been given mandate by the stakeholders of the Assembly and the patrons to unite Orlu leaders and that they are keen at achieving the task. He averred that so far, their effort is paying off even as they hope to extend the visits to other leaders in due time.
Among those that received the delegation of Orluzurumee Youth Assembly are; Dr OJ Anyanwu, Bursar, Dr JU Osuagwu registrar, Mr Henry Acholonu , Deputy Registrar, and Nze Ralph Obi, Public Relation officer of the institution.
Among the delegation of Orluzurumee Youth Assembly are; Engr. Sylvester Anyikwa,Engr Uzoigwe Ferdinand,Rev Ugonna O .Okoro Ph.D,Comr. Nnajiuba Obinna,Infinity Ebere Ohakwe, Comr. Ugo Gentle Okorocha and Onuoha Ugochukwu while Comr Collins Opuruozor represented the Board of Trusteees of Orluzurumee Youth Assembly.