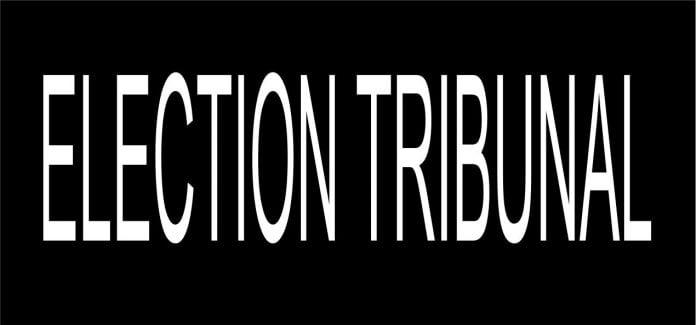 My Attention Has Therefore Been Drawn To An Appeal That Is Trending On Several Social Media Platforms And On Print Media, Urging Governorship Candidates In Imo State Who Have Approached The Tribunal To Seek For Justice To Withdraw Their Petitions Against The Unconstitutionally Declared Governor-Elect In The State, Rt Hon Emeka Ihedioha, His Party (PDP) And The Independent National Electoral Commission (INEC).
Ordinarily, I Would Have Not Bothered Myself, But For The Fact That The Calls Were Made By Two Eminent Former Governors In The State, Their Excellencies Achike Uzoma Udenwa And Ikedi Godson Ohakim, I Have Decided To Make My Input Known.
Both Former Governors Have Embraced Rt Hon Emeka Ihedioha Who Was Wrongly And Unconstitutionally Declared Winner Of The Governorship Election That Took Place On The 9Th Of March 2019.
As Eminent Leaders, They Should Know What Is Good For The State; Politically, Socially, Economically, Etc. However, I See Their Call On Guber Candidates To Withdraw Their Petitions Against Emeka Ihedioha , PDP And INEC From The Tribunal As Suspicious, Selfish And Full Of Hatred And Vendetta.
Before Going Public With Their Call, What Efforts Have These Ex-Governors Made To Reach Out To Aggrieved Governorship Candidates Who Genuinely Feel Cheated By The Conspiracy Of INEC, PDP And Emeka Ihedioha To Rig The 2019 Governorship Election?
As Political Leaders, Have They Reached Out To Ugwumba Uche Nwosu To Plead With Him To Withdraw His Petition? Have They Reached Out To Senator Ifeanyi Godwin Araraume To Plead With Him To Withdraw His Petition? Have They Reached Out To Senator Hope Uzodinma To Plead With Him To Withdraw His Petition?
These Aggrieved Governorship Candidates Have Genuine Grounds To Challenge The Outcome Of The Governorship Election In The State, And They Have Done So. Unfortunately, Emeka Ihedioha Has Not Helped Matters. He Has Refused To Be Humble And Submissive, Since He Is Aware That His Purported Victory Has Multiple Undesirable And Technical Electoral And Constitutional Flaws.
Emeka Ihedioha Has Fragrantly Exposed Himself As Someone Who Is Ill-Prepared For Leadership, As Someone Who Is Not Mentally Prepared To Grapple With Responsibilities That Would Face Him Come May 29, 2019 And Who Does Not Know His Left From His Right.
Few Days Ago, This Unprepared INEC Declared Governor-Elect Inaugurated An Over Four Hundred (400) Man Transition And Inauguration Committee.
This Clearly Shows He Is Confused. In Lagos And Other States, Twenty (20) Man Committees Or A Little Bit More Have Been Inaugurated By Incumbent Governors And Not By Governors-Elect.
Also, Emeka Ihedioha Has Been Threatening The Peace Of The State, To The Extent That He Provocatively Ordered His Cronies To Block The Entrance To The Seat Of Power Of The Imo State Government With Their Rickety Vehicles Numbering Over Five Hundred, To The Extent That A Sitting Governor And His Cabinet Could Not Access The Imo State Government House For Over Five Hours, Just Because He (Emeka Ihedioha) Was Having A Meeting At A Nearby Hotel, Rockview Hotels.
The Same Emeka Ihedioha Has Also Reportedly Issued Threatening Directives To Civil Servants In The State, Especially Those Working In The Ministry Of Lands And Urban Planning, Directing Them To Stop Issuance Of Certificates Of Occupancy.
The Clear Question Is: What Power Does Emeka Ihedioha Have To Issue Directives To Civil Servants That Are Still Under The Leadership Of An Elected Governor, Owelle Rochas Okorocha?
Again, Emeka Ihedioha Has Arrogantly And Carelessly Shown Disrespect, Desecration And Disregard To The Office Of The Governor Of Imo State By Carrying Out Activities That Has Impersonated The Incumbent Governor Of The State, Rochas Okorocha, Which Is In Itself A Criminal Offence.
Emeka Ihedioha Should Have Been Arrested, Detained And Charged For Impersonating Governor Rochas Okorocha, And Threatening The Peace Of The State.
With The Above Clandestine Activities Of Emeka Ihedioha Which Are Confrontational To Constituted Authorities And A Threat To The Peace Of The State And The Nation, On What Grounds Will The Governorship Candidates Who Petitioned The Tribunal Listen To Former Governors Achike Uzoma Udenwa And Ikedi Godson Ohakim's Call To Withdraw Their Petitions?
Even At That, Has Emeka Ihedioha Approached His Brother Governorship Candidates To Plead With Them To Join Him In "Moving" The State Forward?
Everybody Wants Peace In Imo State, But Peace Without Justice Is Meaningless And Will Continue To Walk Hogamugally.
It Is Therefore On This Note That I Humbly And Respectfully Call On Ugwumba Uche Nwosu, Distinguished Senator Ifeanyi Godwin Araraume And Senator Hope Uzodinma To Completely Disregard The Unpatriotic Call By The Two Former Governors Of Imo State To Withdraw Their Petitions From The Tribunal.
Let Us Test The Law At The Tribunal. The Facts Are There For Every Eye To See. After All, If The Process Of Election Is Faulty And Fraudulent, Governorship Candidates Who Are Aggrieved Are Bound To Seek Redress In Court. No Sentiments.
I Rest My Pen.
Signed
Hon Citizen Dr Ikenna Samuelson Iwuoha FCAI, MKDA (EKENWOHIA NDIGBO)
07032934037
10/04/2019
Horn Nigeria