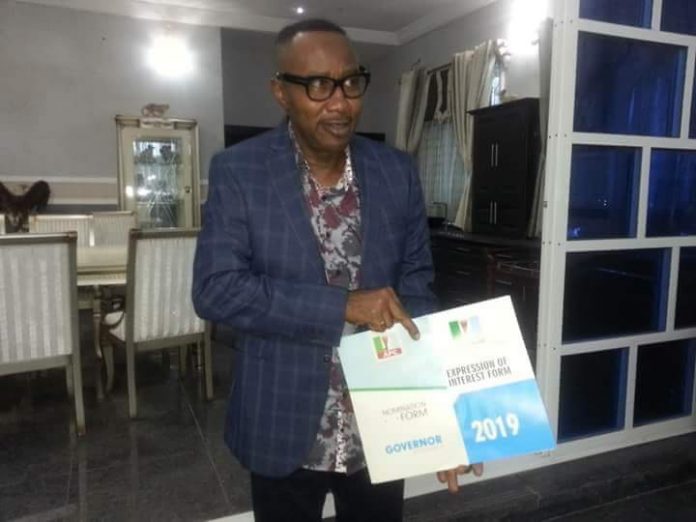 Few days to the Imo State All Progressives Congress APC, governorship primaries, the immediate past secretary to the government to Imo State SGI, Sir (Ugwumba) George Ezenna Eche has promised to repair the ills in the state and clarified reasons behind his guber interest.
Speaking to a group of journalists at his country home in Ngor Okpala LGA on Sunday, the former Accountant General AG, of the State who impressively rose on the Ladder of Civil Service hierarchy to eventually becomes SGI under the rescue mission government of Owelle Rochas Okorocha said he can fix the anomalies in Imo government system when he becomes governor insisting that he has seen lots of government come and go and that he understands as a seasoned civil servants when a government is going wrong.
Eche who took exceptions to the news making rounds the he was in the Imo guber race as Governor Okorocha's stooge explained that he was purely because is very qualified and understands the working of government haven served in various key departments with many of the Governors that have governed Imo.
Articulating how he intends to repair Imo, Sir Eche who gave pass mark to the rescue mission government for opening new roads was quick to mention that infrastructures will be worthless if those they are being built for cannot live to make use of them noting that Imo is surforcating and needs injection of fresh air which according to him will be provided by his campaign manifesto which that soon be made public but summarily named "Refresh Imo" as the slogan.
He further stated that under his government, due process will be restored back to the civil service and will fund the LGA's with the mandate that they be expended on capital projects that can developed the areas and in turn help to urban migration as well as relative growth our micro Industries.
The former SGI who also sympathized with Imo Traders over the ills that befall them owing to the Urban renewal exercise embarked upon by the current government saying that the traders are unhappy and are starving while consumers for the first time now look confused on where to buy particular commodities. He therefore promised to fine tune the urban renewal exercise with interest of the people at heart.
The APC guber hopeful who took time to explain why he is running for the Imo State number one seat went further to elucidate on what his government can offer when he becomes Governor informing the need to inject fresh air into the government parastatals, the Health Sector and Education System by retraining our teachers/lecturers with the view of producing graduates who can Independently take care of themselves as well as ensuring that the workers are well taking care of including their working environment, salaries and that of the pensioners.
-TRUMPETA-