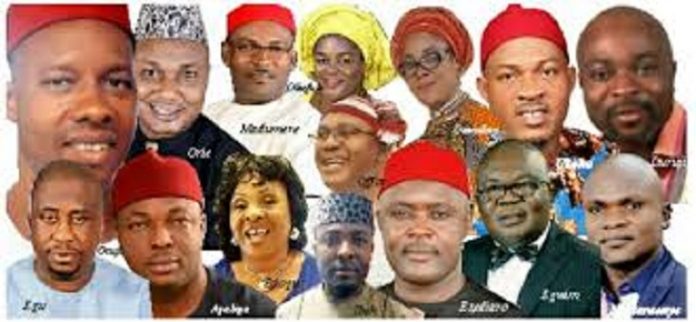 Despite the bargain for a second tenure which necessitated their endorsement of the Chief of Staff to the governor, Uche Nwosu as successor to Governor Okorocha in 2019, the chances of the lawmakers getting a return ticket is remote if events at the mock primaries organized by the state governor for rescue mission members are anything to reckon with.
On Tuesday evening, Okorocha conducted mock primaries for rescue mission followers in Govt House, Owerri. About two people per ward were invited for the meeting.
At the mock primaries, some lawmakers could not get the ovation and endorsement to go for a second term. Trumpeta learnt that the worst hit was the Owerri West lawmakers, Hon Onyebuchi Ikonne who could not get the ovation and endorsement of his people when called upon at the event. The procedure adopted by Okorocha was unfavorable to Onyewuchi when he was brought out to receive endorsements. Our reporter gathered that no ovation greeted his presence indicating that a second term ticket to him may predict doom for rescue mission and APC in State constituency. Nobody was behind him as the hall went into silence when his name was mentioned.
The same treatment was given to Hon Chinedu Offor who represents Onuimo state constituency.
In the case of Offor, Majority of Ounimo constituents looked the other way and failed to hand him the necessary ovation required for endorsement. Only few persons from his area managed to applaud his presence showing a rejection of his return bid.
When it was the turns of Hon Mrs Uju Onwudiwe and Ngozi Obiefule who represent Njaba and Isu LGA's respectively, low ovations and minimal endorsement greeted their presence which could not guarantee their second term tickets. It was gathered that their people could not clap for them when the governor called upon the two House members to stand in front of their people for assessments and endorsements.
A mild drama however developed when Hon Bar Kennedy Ibe was called out initially, he was at the verge of losing support for endorsement before he narrowly escaped the hook and was endorsed by the people of Obowo LGA present.
Meanwhile, a tinge of ironies took place when it was the turn of Oguta people to endorse Hon Henry Ezediaro. Trumpeta gathered that his people scored him below average but the love and support he has shown to the propagation of Uche Nwosu's ambition earned him a support base to be finally endorsed.
Uche Ejiogu, member for Ihitte/Uboma took the centre stage as her own ovation and endorsement was said to be the highest at the mock primaries. The people of Ihitte Uboma that she represents at the State House of Assembly gave her the loudest ovation when she was called out. Despite the Ihitte/Uboma dichotomy that challenges her second term bid, her assessment was the highest forcing the governor, Owelle Rochas Okorocha to dance with her at the event. Lawman Duruji was accepted by his people Ihime Mbano to go for second term. He was acknowledge while the second missionary journey of Arthur Egwim's second term was also guaranteed by his Ideato North people. They gave him full ovation and endorsement when he stood up. Hon Nkenna Nzeruo was given a clean bill by his people. It was gathered that the people of Oru East local government area that he represents want him back and for this reason, his second term bid is now a foregone conclusion.
Hon Donatus Onuigwe from Oru West LGA received pass mark by his people.
The governor promised to visit all the local government areas of Imo State to officially present all those people that were endorsed by the rescue mission group. The governor's visit is expected to start by next month. We further gathered that those endorsed will formally make their declaration during the visit at their various areas. It is now likely that those that were not endorsed by the rescue mission group may not get the governor's backing for that they may withdraw from the race.
(TRUMPETA)