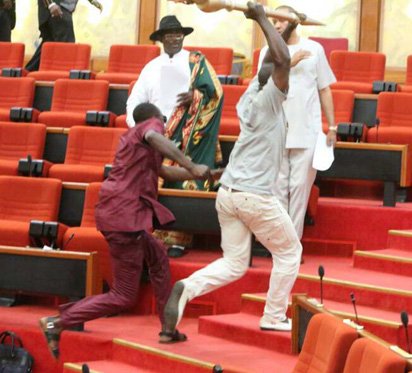 Members of the House of Representatives have said that a better description for Wednesday's attack on the Senate is "terrorism."
The visibly angry lawmakers did not only condemn the invasion of the Senate by suspected thugs but also called for an investigation to unearth persons who planned the security breach.
There was pandemonium in the premises of the National Assembly, particularly the lobby of the 'White House', for over an hour after the invaders successfully carted away the Mace of the Senate.
Visitors and members of staff of the National Assembly were seen running for cover amid the confusion. Some of them initially thought that armed robbers or terrorists had invaded the legislative building.
As a mark of solidarity with the Senate, the members, led by the Deputy Speaker, Mr. Yussuff Lasun, had marched to the Senate' chambers to sit briefly with senators.
They later returned to the House to debate the invasion, following a motion moved by the Leader of the House, Mr. Femi Gbajabiamila.
The leader told members to brace against what he called a carefully planned affront on the legislature, "the very heart of democracy."
He added, "This is akin to a terrorist attack; there is no better way to describe it.
"We must not give them the opportunity to celebrate this attack."
Gbajabiamila noted that the invasion had again brought to the fore the urgency to strengthen security at the National Assembly.
He said, "How this is possible anywhere in the world beats my imagination.
"The moment has come for us to do what we should have done a long time ago; to beef up security at the National Assembly.
"You see people hawking in the corridors like a commercial centre. People come here to sell Suya and all manner of things take place here.
"This attack simply meant that we have been sitting ducks here."