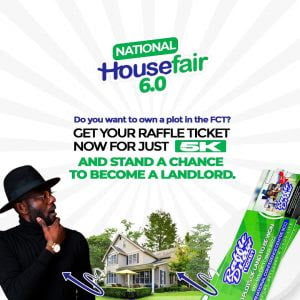 National House Fair is an event that has been going on for 6 years, designed to provide solutions to national housing defects through sustainable housing.
This year's National House Fair has centered its theme around youths, women, and their impact on national growth.
The theme is – Youths and Women Inclusion in Economic Growth and Development: THE FUTURE.
This year's edition—as it has always been, will be an avenue for business networking, interaction, and discovery.
It will also feature housing exhibitions, entertainment, panel discussion and speeches from reputable speakers, and raffle draws to give back to the community. 10 plots of land worth over 10 million naira each, and lots of consolation gifts, washing machines, phones, etc.
Eligibility is with just a raffle ticket of #5,000.
National House Fair 6.0
OUR KEYNOTE SPEAKERS
The likes of;
Brig. Gen. Dele Arogundade – Directing Staff, National Defense College
Jane Kimemia Nechi – CEO, Optiva Capital Partners
Dr. Adewumi Edward – CEO, Kinetic Hospital
Prof. Adesoji Adesugba – Managing Director/CEO, Nigerian Export Processing Zone Authority (NEPZA)
Pastor Isaiah Emmanuel – Pastor, The Transforming Church
Mrs. Msurshima Chenge – Founder/President, The Prudent Women Organization, will feature in this year's edition.
OUR CONFIRMED PANELISTS ARE:
Barr. Femi Adekunle
Vice President, Transaction Legal and Ag. Head, Enterprise Management Directorate
Miss Elizabeth Raj
Founder, Santha – Ruby Medical Assistance Foundation
Hon. Ayodeji Joseph
Managing Director, Lagos Development Properties Corporation (LSPDC)
Mr. Paul Fasanya Ayotunde
Senior Grant Financial Officer, Institute of Human Virology Nigeria
Dr. Azeezat Yishawu
Speaker, Nigerian Youth Parliament
Mr. Kabiru Ibrahim Tukura (MHR)
Member, House of Representative
Engr. (Dr) Okere Princewill C.
Energy Expert Nigerian Pipelines and Storage Company Limited
Dr. Arome Salifu
The Executive Director
Africa Youth Growth Foundation
Mr. Innocent Okwudili Okafor
President, JCI Abuja Metro
Mr. Tolu Oluwo
CEO, tRoG World
Marie Onen
Founder, Mariecare Initiative
Mr. Dayo Isreal
APC Youth Leader
Mr. Musa Olatunji
CEO, BeMORE Global Consulting
Mr. Oyewole Joledo
Senior Manager, Paxful Inc
Mr. Simeon Obi
Executive Director, Green Light Initiative
The event will be held from the 6th to the 8th of October 2022 at the International Conference Center, Abuja at 10am daily.
As a tradition, the carnival with much beauty and respect for culture will be held from the 4th to the 6th of October 2022 on the streets of Abuja.