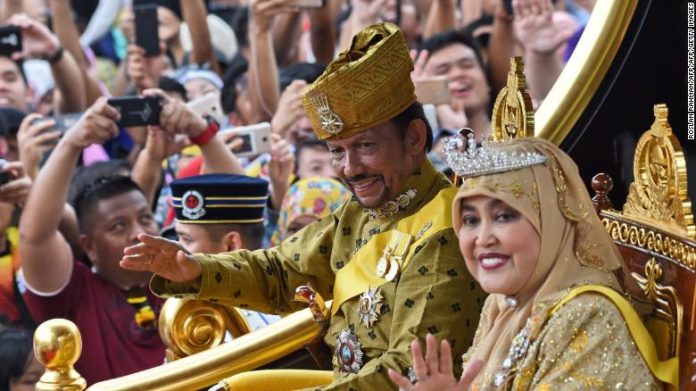 When the tiny, oil-rich kingdom of Brunei first announced in 2013 that it would adopt strict Islamic laws, including death by stoning for gay sex, many in the country's LGBT community considered fleeing.
But some stayed on, hoping that the law, which is set to be formally
enacted on April 3
, would never come to pass.
"It's really scary," says Khairul, a young gay man in Brunei who spoke to CNN over the phone.
He and others interviewed by CNN for this story asked that their real identities to be hidden over concerns for their safety and that of their families.
"I thought I would not be accepted. (I thought) I would be outcast by my family, (I thought) I would be sent to religious counseling, to help me change," Khairul says. "But, it was worse than I thought, because of the stoning. It made me feel that if that comes to reality, I might as well just leave," he adds.
"(The laws are) inhumane. It's a very aggressive punishment. It's not something that a human should suffer … just because of being a homosexual."
Transgender woman Zain fled Brunei in late 2018 and is now seeking asylum in Canada.
"I wanted to live my life on my own terms, in the sense that I wanted to be a woman. I wanted to live a life without religious fundamentalism, conservatism, so I just left the country," Zain says. "Under Sharia law I would be fined and caned and jailed."
Zain says her understanding of Sharia law increased her concerns about what was to come.
"I'd been
living in fear
probably since 2013," Zain says. "I was indoctrinated with religious school, so I knew these laws a bit more than my friends who aren't as religious, and I was a bit scared about Sharia law being implemented."
Zain says it's not just the LGBT community that will be threatened by these laws.
"Everyone is affected. It's just going to be a horrible life living there, even if you're not LGBT," Zain says. "Women especially would be at a big disadvantage there." The new law also punishes adultery among heterosexual couples with death by stoning.
Zain is encouraging others to leave the country. "I just want my LGBT friends to be safe, and if possible get out of Brunei," Zain says. "It's not a good place to have your freedom be taken away from you, your human rights. It's a terrible way to live."
The new penal code was implemented by the Sultan of Brunei, Hassanal Bolkiah, who also acts as the country's prime minister.