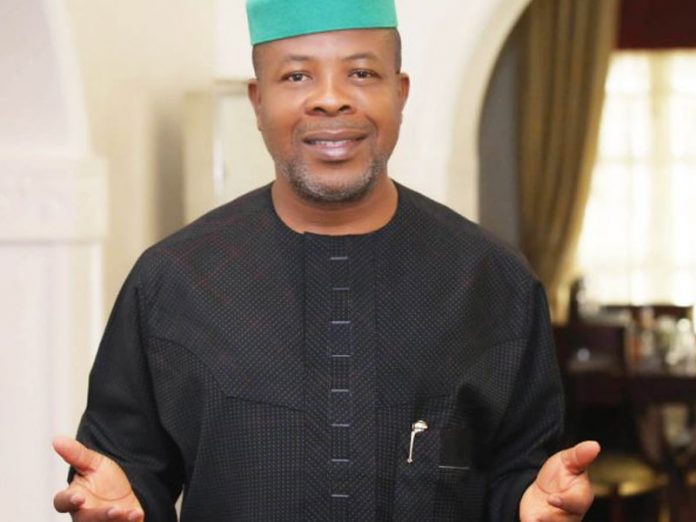 By EDISON Okereke
The declaration of Rt. Hon. Emeka Ihedioha the Imo State Governor-elect has been described as the best thing that has happened to the state.
A businessman of international repute and philanthropist, Prince Christopher Obi (OGAZI) made the declaration recently at his Villa in Awo-Idemili Local Government Area of the state.
Obi who is also a community leader bared his mind during an interaction with journalists.
He stated that the emergence of Ihedioha is an act of God, and called on the indigenes of the state to cooperate with the governor-elect in his desire to rebuild the fallen state of our public service and infrastructure across the state.
He applauded the indigenes for standing on the platform of posterity by voting and protecting votes cast for Ihedioha despite alleged hostilities across the state.
According to him the Governor-elect is a gift to the state, especially to the true lovers of development as he comes to the governance seat with years of experience in public administration.
He said his emergence is timely as it assuages the cries of people held in political bondage and promised that the Governor-elect will put smiles on the faces of numerous people groaning over the recent mal-administration in the state.
The Chief Executive officer of Reality Oil and Gas Ltd stated that the Peoples Democratic Party's (PDP) candidate and governor-elect traversed the nooks and corners of the state in his campaign and deserved the victory and more, insisted that the robust campaign structure put up by the ex-deputy Speaker of the House of Representatives affordes him the opportunity to come first-hand with the challenges of the people across the state.
Obi enjoined the Independent National Electoral Commission (INEC) to take a look at the lapses recorded in the recent electoral management and work towards correcting them in subsequent elections, especially the re-runs billed for March 23 in some areas.
He frowned at the attitude of some politicians, deploring vices like harassment of personnel during collation and announcement of results and called on the INEC to embrace the timely transmission of results from the polling booths to forestall all forms of tampering with people's votes after voting.
Nigeria Horn