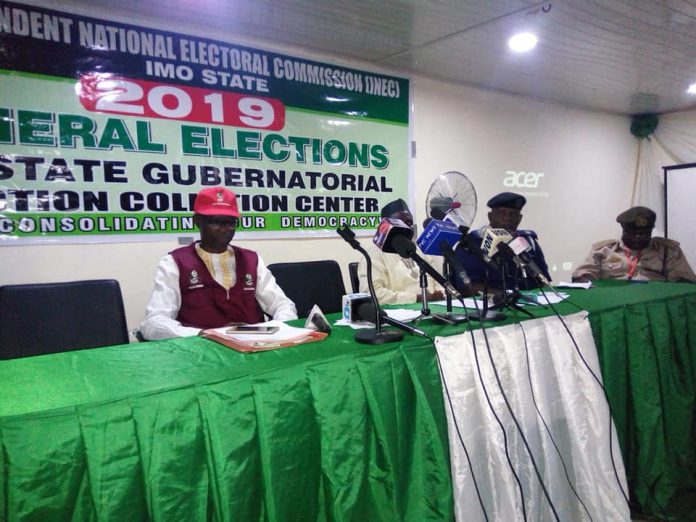 A Peoples Democratic Party's agent in Imo State, Mr Uche Onyeagocha, has said his party will not accept the results of the governorship and state House of Assembly elections in four local government areas of the state.
He alleged that the results were manipulated by agents of the state governor, Rochas Okorocha.
Onyeagocha, a former special adviser to the governor, said he had reliable information from the PDP agents that the results were being switched and falsified in the Ideato South, Nkwerre, Ohaji-Egbema and Oguta Local Government Areas of the state.
Addressing journalists at the Independent National Electoral Commission's office in Owerri on Sunday, the lawyer accused Okorocha of using security personnel, including fake policemen, to change the results in favour of his son in-law and anointed successor, Uche Nwosu, of Action Alliance.
The former House of Representatives member also indicted a military officer who he said was the arrowhead of the plot to rig the election in the state in favour of the AA governorship candidate.
Onyeagocha said, "Less than one hour ago, the captain has gone to Nkwerre Local Government Area, which is the local government of Uche Nwosu and has in collusion with the Electoral Officer snatched the result sheets and escaped with it. Our people are chasing them around to retrieve the sheets.
"I have come to make formal complaint to the REC. So we are having a situation where Okorocha has turned Imo State into an arena of war, where he believes he must conquer all and grab all by force in order to influence the elections. We are resisting him to the best of our abilities."
The former governor's aide also alleged that soldiers were being used to falsify results in the Oguta and Isiala Mbano LGAs in favour of Okorocha's son in-law .
He added, "I know him very well; I was his adviser until 2016 when I walked out on him.
"This is the method he is used to. I worked with him as an APC member and when he was the governor, I was the senatorial candidate for Owerri zone."
Asked if he also manipulated election results while working with the governor, Onyeagocha, said, "I have not done it with him, I did not snatch any ballot box, I did not snatch results."
But the state Commissioner for Information, Mr Patrick Nzeh, faulted the allegations against the governor, stating that Okorocha could never be involved in electoral malfeasance.
He stated, "It is not true. The Governor cannot be involved in rigging and other electoral malpractices.
"He has been striving for fairness and cannot support or endorse manipulation of the electoral process.
"Onyeagocha maybe a former aide to the governor, but he was not close to him. He was only talking because he was frustrated out of the system."
PUNCH.