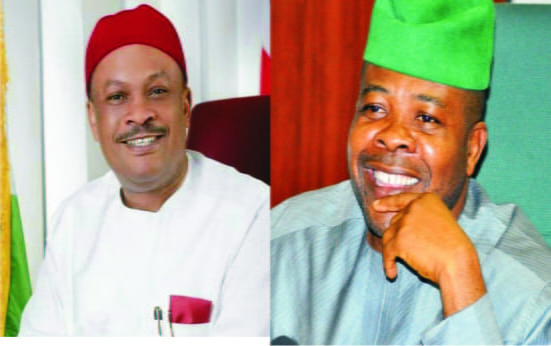 The Peoples Democratic Party, PDP, Imo State chapter tomorrow, Saturday September 8, 2018 holds its election to produce three-man Adhoc Delegates from each of the Three Hundred and Five (305) Electoral Wards in the State.
As expected in political contests, the exercise will be dominated by intergues and horse-tradings among contending forces fighting to control the exercise.
Information available indicate that now two major camps control the soul of Imo PDP. In these camps are heavy weights like Chief Emmanuel Iwuanyanwu, Mrs Kema Chikwe, Chief Ambrose Ejiogu, Chief Achike Udenwa, Engr Ebere Udeagu, Bar Peter Egbenwelu, Chief Osita Nwaneri and others.
Sources told Trumpeta that these Big wigs who have the power to influence things in their various areas are split between Senator Sam Daddy Anyanwu and Hon Emeka Ihedioha.
Trumpeta learnt that these Heavy weights are back to their various Wards to supervise the outcome of the Delegate elections today.
In Owerri zone, where Chief Emma Iwuanyanwu comes from, he is said to have directed that emerging Delegates from Ikeduru LGA be ceded to Senator Sam Daddy Anyanwu, since he is from the LGA, and contesting for Governorship.
But the directive was said to have been challenged by other Aspirants for other positions, like Uche Ogbuagu who is running for House of Assembly and alleged to be in the Ihedioha camp.
In other parts of Owerri zone like Mbaise Nation and Ngor Okpala LGA, followers of Ihedioha are said to be numerous in these Areas.
In Okigwe zone, Senator Athan Achonu, a Governorship Aspirant is said to be battling with Ihedioha and Anyanwu, whose followers have infiltrated the zone and likely to dislodge Achonu in his own zone, which he thought would be an easy package for him, since Okigwe has no other Governorship Aspirant in PDP.
In Orlu zone, Trumpeta learnt that area has turned to a beautiful bride for both camps.
However, Ihedioha, who picked Dr Vin Udokwu, a former Chief of Staff to Ex-Governor Achike Udenwa, as his Director-General, is said to have applied a good strategy in that appointment, as the Orlu born Udokwu is penetrating the zone up.
Following this latest development, the Anyanwu camp is said to have risen to challenge the Ihedioha camp from dominating the outcome of the final situation with their own plan, which includes poaching much of Ihedioha's followers if possible.
However, indications are that the elections will hold peacefully since those who are going to vote have already been briefed on how to go about the exercise to produce a free and fair outing, so that whoever is beaten will go home quietly.
-TRUMPETA-