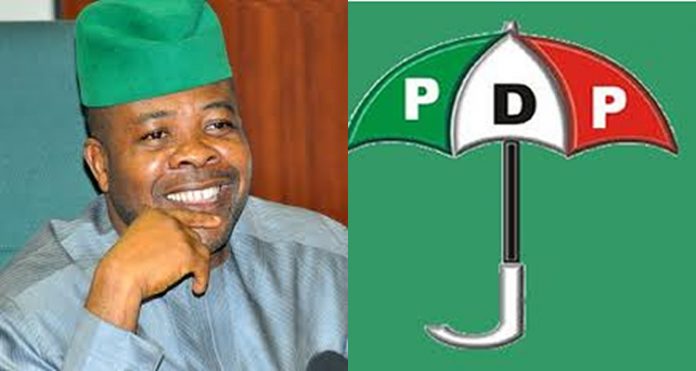 It was the turn of Ngor Okpala Local Government, in the series of visits to Imo State Local Governor Areas, by Rt Hon Emeka Ihedioha, in his consultations with Stakeholders in the Peoples Democratic Party PDP, over his ambition to Governor Imo State come 2019.
Ihedioha, whose maternal home is Ngor Okpala arrived with intimidating crowds waiting for him at various stops.
The journey commenced with a reception at the Ngor Okpala, and Owerri North LGA boundary at Ulakwo, where top PDP members ushered him into Ngor Okpala land.
He moved to Ehinkirinki Hall, Okpala of Mbaisi Court Area where he addressed members of Ward one and four. Chief Emma Nwogu, Dr Blessing Njoku and Lady China spoke onbehalf of the Wards.
The Ihedioha Train relocated to Okwe Court Area, at the home of Oliver Okere, where a tumultuous crowd welcomed their son. There he met, Wards 7,8,9 and 11.
Bar Kingsley Nzeamaechi, Hon Kizito Onuoha, Hon Henry (HADUR) Ekpe, Nze Charles Nkwocha all spoke of the need for the zone to support Ihedioha realize his Governorship ambition.
Finally, the Ihedioha Governorship Movement stationed in the premises of Hon Bede Eke, member representing Ngor Okpala/ Aboh Mbaise in the Federal House. There he met Wards 2,5,6,4 and 10.
Speaking, there former majority Leader of Imo House of Assembly, Rt Hon Stamford Onyirimba asked the mammoth crowd to join the Ihedioha train, just as Okigwe zone, where he comes from has adopted him.
Ihedioha later thanked the people of Ngor Okpala for their support and reeled out the numerous projects he executed in the various wards in the court Area when he was a member of House of Representatives and vowed to do more if he becomes the Governor of Imo State in 2019.
Ihedioha was on the journey with too personalities from the twenty seven Local Government Areas of the State which include, Rt Hon Chuma Nnaji, Engr Ben Ekwueme, Chief Analyn Nwaneri, Ben Mere, Mrs Ngozi Oguike, Dr Fab Ogbonna, Innocent Ikenma, Hon Bruno Ukaoha, Aham Onyenobi etc.