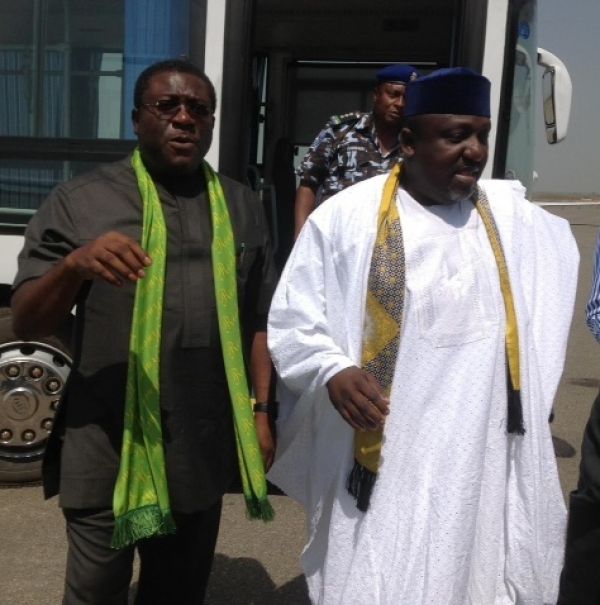 Indications are that the face-off between Imo State Governor, Owelle Rochas Okorocha and his Deputy, Prince Eze Madumere, has reached a feverish point that both families have decided to delve into the matter and make peace between the former allies.
According to information available to Trumpeta Newspaper, one of Okorocha's siblings (names withheld) has began a "diplomatic shuttle" between Okorocha and Madumere families to see how the lingering feud between Rochas and his Deputy Madumere could settled.
Trumpeta was told that the Madumere and Okorocha families are disturbed that a relationship build over twenty seven years ago by both families is about to crumble in a manner that generations yet unborn from both families may grow up to continue the squabble, if not nipped in the bud now.
Sources who are close to the Okorocha sibling who is leading the reconciliation train, maintained that both families are not happy how the face-off between Okorocha and Madumere is generating more wings every day, as both men haul invectives against each other without restrain.
Trumpeta was told that the Okorocha sibling had reached Madumere through phone, but the Deputy Governor who has be shuttling between Abuja and Owerri has not been able to be trapped for the parley meeting to commence.
It was learnt that it was not yet clear if the Okorocha's brother intimated the Governor before the peace move. But sources said that Okorocha will not say no to any move that may bring him face-to-face with his Deputy again, who is said to have avoided Okorocha for over one mouth now.
Eze Madumere himself is said not to be aversive to peace, but is worried that he was not the cause of the problem in the first place, as it his principal Okorocha who is blamed for severing their relationship, by picking his son inlaw, Uche Nwosu ahead Madumere, to succeed him in office after Madumere had served him diligently without blemish for many years.
Sources said that Madumere is even more surprised that rather than keep quiet, Okorocha went to the media to make a statement that Madumere is not capable of being Governor, which Madumere's associates see as damaging to the Deputy Governor's integrity, not only today, but in the future.
"What did Madumere do to Okorocha that such a damaging and malicious word could come out from the mouth of a principal whose subordinate gave unalloyed loyalty for over twenty five years?" the source asked.
The source said that even since then, Madumere has not issued in remark to abuse his estranged principal, but instead Okorocha has continued to rain abuses and curses against Madumere.
However, the Okorocha sibling who is spear-heading the peace mission is alleged to have said that the issue between Okorocha and Madumere has not gone out of reconciliation level, adding that both men must reconcile to shame their common enemies.
But to reach Madumere is said to be difficult, as the Deputy Governor is afraid for his security, following rumours of planned attack on his person by some unknown goons of the authorities.
"Who will assure the Deputy Governor that he will be safe in this mission of making peace with his former Boss? You can see that everywhere in Imo State is charged" the source said.
But the Okorocha sibling is said to have agreed to shift the meeting where ever Madumere chooses could be safe for him, preferably in Abuja.
Meanwhile, pundits are saying that the latest move to initiate peace between Okorocha and Madumere is a road map to a final harmonization of the Imo APC war between the "Allied Forces" and Okorocha.
Trumpeta learnt that Okorocha does not trust any member of the coalition than Madumere despite their recent quarrel.
This Newspaper learnt that if Okorocha and Madumere succeed in mending their fences, the general reconciliation between Okorocha and Allied Forces can then commence.
But the fear of some Imolites and Analysts is that Okorocha cannot for any reason adhere to agreements, because he believes he owns Imo State and obeying any Body or Group reduces him from his utopian height.
Meanwhile Imo citizens are waiting patient for this "Aburi Accord" between Okorocha and Madumere that may eventually usher in a final peace and truce in Imo APC.