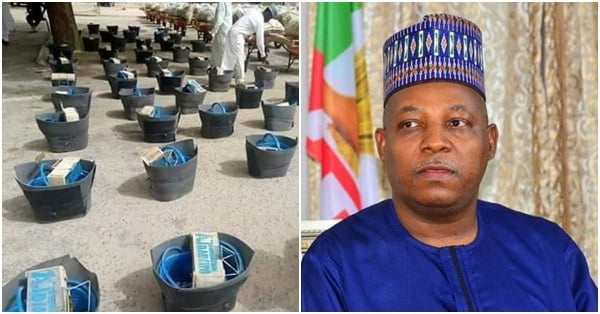 Borno State Governor, Kashim Shettima, has queried his Commissioner for Higher Education and aspirant for the house of representatives in 2019, Usman Jaha (Babawo) for distributing shoe polish and other items to youth in Gwoza as part of his welfare programme.
Photos of the donation went viral in the social media since Wednesday evening with most commentators ascribing it to the governor.
Shoe polishing is one of the popular menial jobs many unemployed and out-of-school young people especially in the north take to.
Mr Shettima who felt angered by the donation chided the official for embarrassing not only himself but the administration, a government official familiar with the development told a group of journalists.
"The Governor reminded the Commissioner that his own Ministry has so far facilitated the approval of foreign universities scholarships to more than 300 Borno youth amongst them almost 100 ladies studying medicine abroad as part of the Governor's 'standard' in human resource development.
"The Governor alo reminded the Commissioner that his ministry is the one building Borno's first state university after 41 years of the state's creation and therefore wondered why on earth the commissioner, who is a ddegree holder and has been visiting Borno students abroad, chose to distribute shoe polish as part of his own understanding of human capacity development for youths in Gwoza," the official told journalists.
The governor's spokesperson, Isa Gusau, declined to comment for the story as he was on leave.
The social media was awash with pictures of hundreds of youth receiving shoe polish packs.
Some online media had reported that the programme was initiated by the State Government.
However, the Commissioner issued a clarification on Wednesday evening explaining that the programme was his personal intervention based on the request from the beneficiaries.
"The programme is my personal effort and it is based on the peculiar needs of the beneficiaries in Gwoza.
"All communities have their needs and these needs change from time to time. In my years as a politician, who served at the Borno State Assembly before becoming a Commissioner, I have always interacted with constituents before making any welfare intervention.
"I make interventions based on their peculiar needs. There are times people ask for a particular support and we don't have the liberty of imposing our preferences. We support communities in all sectors that include education, vocational skills and businesses.
"There are records. We do what our people want. I have once seen the picture of a serving Governor from a different part of this country distributing chickens to citizens and I am sure it was based on the peculiarities of needs."