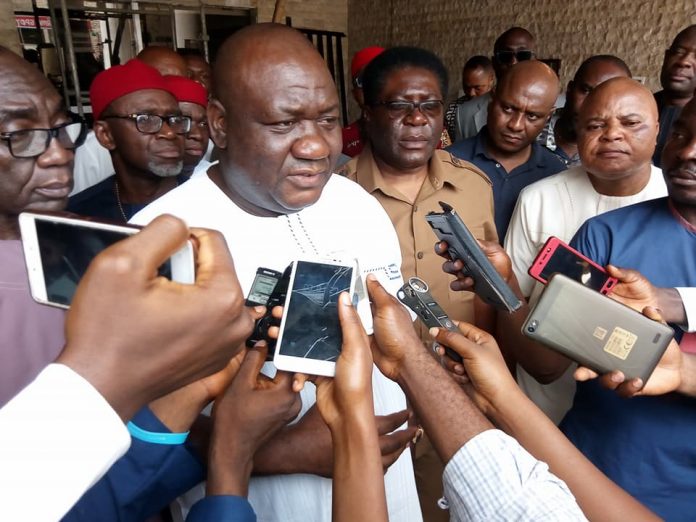 Senator Benjamin Uwajumuogu representing Okigwe zone in the Senate also Secretary of APC Congress committee briefing Press Men at Full Moon Hotel New Owerri said the APC Ward Congress was successful and peaceful too.
Senator Benjamin Uwajumuogu stated that the state governor Anayo Rochas Okorocha and chief of staff Uche Nwosu hijacked the People that supposed to conduct the Ward Congress adding that the Chief of Staff sent thugs to disorganized the meeting of the APC stakeholders held after the primary election.
While Senator Uwajumuogu made it clear that there is no cause for alarm, he stated that the list of the Ward Congress will be made public and called on party faithfuls to remain loyal and dedicated to move the party forward.
Present at the press conference include, the Deputy Governor of Imo State Prince Eze Madumere, Senator Ifeanyi Ararume, Sir Jude Ejiogu, Jasper Azutalam, Chukwuemeka Nwajuba, Sir Kingsley Ononuju, Dr Vitalis Orikeze Ajumbe, Hon Osita Opara, Uche Best Mbanazo, Chief Marcon Nlemigbo, Chief IB Okafor, UK Ogbonna and so many others party stakeholders too numerous to mention.
Also, another press release has emerged from Engineer Nwabueze Oguchienti, the Publicity Secretary of the party in the state and it reads"
The Ward Congress of All Progressive Congress, APC, Imo State was conducted and concluded successfully and peacefully on Saturday, May 5, 2018 in the 305 wards of the state. The party salutes the commitment, passion, dedication and above all, the peaceful and diligent comportment of our party members during the congress. The party is also grateful to the maturity and candour of the Ward Congress Committee who remained unwearied and focused in spite of the desperate efforts of the State Governor, Owelle Rochas Okorocha to hijack the committee through blackmail, intimidation and groundswell financial inducement.
By the outcome of the congress and the spontaneous outpouring of family love and conviviality, the party and their numerous supporters who had for long longed for extrication from the stronghold of one man and his family have been vindicated.
We re-affirm our unalloyed loyalty to the National Working Committee and state leadership of the party. We can now assure Nigerians that Imo APC is more than ever before poised to demonstrate that APC in Imo State and indeed in the South East is a popular party which in the past has been misconstrued due to the antecedents of one man.
Long Live Imo APC. Long Live Nigeria. Long Live APC
Long Live President Muhammadu Buhari