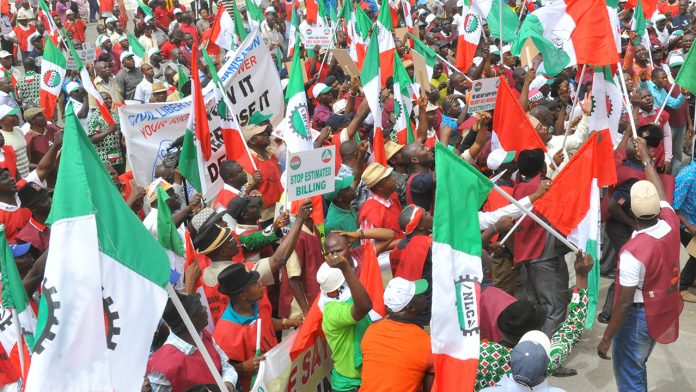 Nigeria Labour Congress Imo State wing is now in total disarray over payment of retired workers allowance
Our reporter gathered that the NLC, and TUC led by Comrades Augustine Chilakpu and Paul Akalazu respectively are at loggerheads over workers welfare, and leadership tussle.
Information revealed that the committee set up by the labour unions for the harmonization of pension matters it was learnt could not deliver they were accused complicity being bought by Imo State Government to down play the demand of NLC.
While the TUC is against the 40%, government is offering, the other group said to be controlled by the NLC Chairman decided to go under and there action was declared unacceptable by the workers who are highly aggrieved and have plotted to pass vote of no confidence on the leaders of NLC. The issue of Labour Union House donated by the Rescue Mission Government is another factor that has brought a faceoff between NLC and TUC as the group controlled by Chilakpu as we gathered took over the building without any portion to the TUC forcing Akalazu, the leader of TUC to raise the alarm and suspect a foul play on the part of Chilakpu.
Funding of May Day celebration in Imo is another factor that is causing problem between the two factions of labour union.
The required fund needed by the NLC led by Comr Chilakpu to fund their activities was released on time but that of TUC has not been given out uptil the time of going to press. Moreover, it was gathered that the government may have may have relegated the TUC and choose to work only with the NLC led by Chilakpu. We were told that the retired workers are now facing difficult moment as the state government has refused to pay them for over 35 months now.
The Pension Union Chairman in Imo was buried few months ago and his Deputy is in the Mortuary. Report shows that pensioners die every day in Imo and those who are alive are now seriously sick. Imo workers has repeatedly asked governor Okorocha, if it is wrong for one to be a retired staff.
Some Rescue Mission officials who spoke to our reporter under anonymity hinted that the governor want to get the true list of pensioners in Imo before another payment will commence. According to our source, a lot of fraud was discovered recently. All effort made to get NLC Chairman, Chilakpu to get his reaction proved abortive as at the time of filing this story as his phone line was not reachable.