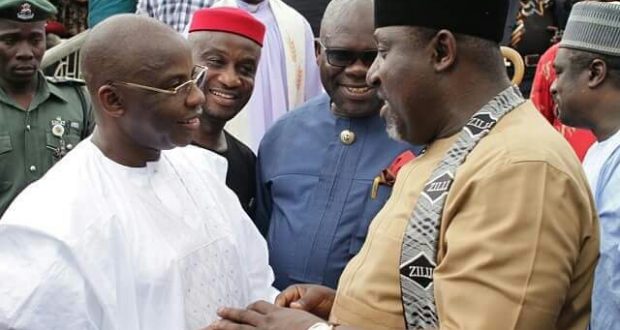 The immediate past Governor of Imo State, His Excellency, Chief Ikedi Ohakim has hit his successor, Owelle Rochas Okorocha hard in his response to Okorocha's statement that he has retired Ohakim.
In a press Release signed by Ohakim's Chief Press Secretary, Collins Ughalaa, Ohakim pleaded to Imo people that the incumbent Governor the State needs a mental test to ascertain if he is in his real frame of mind, following some of his bizarre attitudes and utterances.
In a document captioned "Governor Okorocha has ran Amok" Ohakim said "Okorocha's senseless comments and actions in the State for years confirm that he has completely run amok and requires an urgent psychiatric attention before he goes totally naked in the market place".
Ohakim was worried that his successor in office as Governor of Imo State has desecrated the office of Governor by his conducts which are nothing near Excellency, pointing out that Okorocha speaks unguardedly which does not befit his office.
The former Governor said that Okorocha cannot retire him, adding that instead Okorocha has retired Imo populace to penury and poverty because of his draconian policies.
"Governor Okorocha has since 2011 retired 10, 000 jobs, 27 Local Government Chairmen, Local Government Election, more than 50% Civil Servants and Pensioners in the State, 46 Development Centers, Traditional Institutions, 45 Modern Community Health Centers and 1,395 Water Schemes, Keke Operators, Traders, Artisans etc" Ohakim read.
Ohakim maintained that Okorocha has "retired Dan Anyiam Stadium, Heartland Football Club, Old Stadium, Owerri, New Market, Ekeonunwa Market, EkeAtta, Nkworji, IBC Quarters to Rochas Foundation College etc"
He said that the Imo State Governor is poised to retire everything in Imo State before he vacates office next year, pointing out that the Judiciary, Legislature including Executive Arms of Governments in Imo State have all been retired by Okorocha.
Ohakim expressed that Okorocha has abandoned the important matters facing his administration but dwells on mundane issues that only brings division in the State.
The former Governor even said that he has not replied Okorocha yet as his full comment would be released soon. Where he will detail how Okorocha frittered away the Trillions of Naira that entered Imo Coffers within seven years now.
It would be recalled that Okorocha fired the first Salvo during an interaction in Owerri where he said he has retired some notable politicians in Imo State including Senator Arthur Nzeribe, Chief Achike Udenwa, Chief Ikedi Ohakim and Senator Araraume whom he said he would retire after 2019 general elections.
(TRUMPETA)