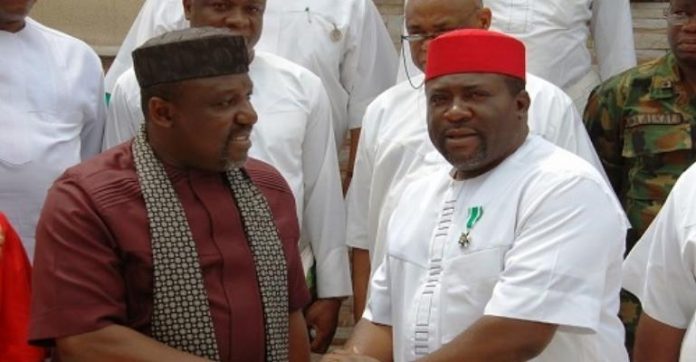 By Sampson Udeh
Last Monday, the Chief Press Secretary to Governor Rochas Okorocha of Imo State in his usual tradition did disappoint most of us when he chose to attack the Deputy Governor of Imo State, Prince Eze Madumere in his column with the title: His Excellency, Prince Eze Madumere & Meeting of 7 Guber Aspirants."
In his jumbled and tersely couched opinion, Onwuemeodo drew his premise from the transmutation of Prince Madumere as the Chief of Staff to his present position as the Deputy Governor of Imo State, a feat he views as being too lucky to have attained such a height in the political history of Imo State. His words reading in parts: "…In the Political history of Imo State, Prince Eze Madumere is the only guy who has made history by serving as both Chief of Staff and as Deputy Governor."
Sam Onwuemeodo in his laisser-faire attitude chose to address his boss, the Deputy Governor, with the word 'guy', in a communication that is supposedly meant to be consumed by the general public. At this point, background and idiosyncrasy of Onwuemeodo come to question. How did he come to this senile level? Again, I dare question Governor Okorocha's grasp of administrative traditions – organizational principles and code of conduct in an establishment as serious as government? Does Onwuemeodo know the implication of his incongruous engagement against the person of the Deputy Governor in an establishment he is a co-founder? It smacks of an administrative ignoramus.
Interestingly, Prince Madumere cannot be said to have become whatever he is by chance or just at the mercy of his close to three decades friend and political ally. Onwuemeodo as shallow as he is could not decipher that Madumere could not have come thus far if he were not to be as useful. In many of his public outings, Governor Okorocha had always publicly confessed Prince Madumere's avowed doggedness, steadfastness, faithfulness, humility, loyalty and result orientation.
Some of his many words on Madumere: "Madumere is my beloved son in whom I am well pleased. Madumere is a man has been with me in thick and thin. When everyone deserted me after all our election losses, even that pain, when look left and right, the only person I would see is Madumere. This man you see here has suffered and has kept faith."
"I agree that the Deputy Governor is loyal. What have I got to do with loyalty alone? For your information, that he is the Deputy Governor of Imo State today is not because of loyalty. It is because he has capacity." –
"Madumere is my beloved son in whom I am well pleased. My relationship with my deputy, Prince Eze Madumere is over twenty years. I saw him in the United States of America fishing. I said to him, follow me and I will make a fisher of men. Madumere followed without argument. In our journey in politics, we kept failing even when I ran for President. In all these, Madumere has remained steadfast and calm."
If the Chief Press secretary to the Deputy Governor, Sam Onwuemeodo is not a past master in failure, I doubt he could have churned out that less than impressive gibberish against his employer. One can recall how the man Onwuemeodo had at different occasions challenged even his chi to a wrestle. We were not asleep when he challenged Femi Fani Kayode. Of course, to Chief Kayode, the personality of Imo Governor's media handler was less than that of nwanza. In that outing, Okorocha's image was maimed and what was left of his name was thrown to the dogs. I have my reservation whether Governor Okorocha actually appreciates what it means to have a good name. Methinks if Governor Okorocha cares, that Onwuemeodo's cream of shame on his personality could have earned him a mild punishment. I have not seen any good image maker whose interest is to make enemies for his Principal. Attack on Prince Eze Madumere is another case in point.
Sam Onwuemeodo it was who created an impression that Governor Okorocha said his Deputy had no political value, a statement Governor Okorocha could never have made against a man who stood by him when it mattered most. However, Governor cannot totally be exonerated for his silence over such heinous and weighty attack on his friend and political tactician.
It is also mind boggling to note that a Chief Press Secretary of the Chief Executive of the State lacks analytical mind with little or no recourse to research into the history of the two friends. As someone who has always presented himself as repository of knowledge, little effort would have put him on a better footing to appreciate the relationship between Okorocha and Madumere. If he had he would have known that he has no locus standi let alone walking into such a devastating temptation willy-nilly.
Reading Ethelbert Okere's rejoinder, one could understand how concerned the man is by the tone of his rejoinder to Onwuemeodo's insulting letters to the number two citizen of Imo State. For this writer, Madumere has not said anything to warrant Onwuemeodo's comment. A man who lost his life, lost everything he cherished for the sake of Okorocha should not be disrespected by a mere beneficiary of Madumere's toil. A relationship that ought to be symbiotic according to the Okorocha's confessions is nonetheless parasitic as he has abrasively denied his deputy of all basic political allotments including his human-hood. This onslaught has been described by most pundits as premeditated tactics to dislodge Madumere financially and otherwise so as to have a field day in his quest to foist his puppet son-in-law unchallenged on Imo people.
One question is: how come, Onwuemeodo was not chosen as the Deputy Governor of Imo State, a position Madumere prepared another person? From all indication in every sense of good reasoning, Madumere was not appointed the Deputy Governor, at the first instance, for his appreciation. Governor Okorocha's preference for Madumere was purported to have been shrouded in self-serving interest, which is not unconnected with Prince Madumere's commitment, devotion, passion and ready-to-make-sacrifices stance to ensure the government is stabilized, a political proceed Governor Okorocha could never have got from any quarters. If it were to be in business, one can say that Madumere has great equity in Rescue Mission Government.
Labouring so hard to justify his unwarranted attacks, he jumbled and represented a statement credited to Deputy Governor: "My only worry is that he is pursuing the ambition somehow. He is giving the impression that he is not in the race for the aim of winning but to blackmail. All his media displays have all given that impression. I am yet to see his blue prints. I am yet to see the spirit of someone in the race to win or make remarkable impact. I have only read: "I can become Governor without Okorocha". "I have been betrayed and so on." These were statements credited to Madumere.
The question is: This is a man who built a system for which every dick and harry is enjoying and all of a sudden a partner in the project defaulted and you expect the person to die in silence. You cannot even do that to your child. Onwuemeodo, I put it to you here that you are the blackmailer. Governor Okorocha, I agree, is the all-powerful Governor today but he is certainly no God. Madumere is right. I am sure the man must have thought through all that he had gone through before making such statements. Again, if you were in his shoe, what would you do? I should be forgiven for using Onwuemeodo in this analogy because he has no grace to make such sacrifices. At least his antecedents of not keeping to agreement are there for all to see. What gratitude is Sam talking about?
Prince Ezeakonobi Madumere was with us here in the United States. He was trail blazer, a leader and a man who knows what he wants in life. He left a flourishing career to join Governor Okorocha who pleaded with him to join him in Nigeria. I hereby tell Sam Onwuemeodo to shut up so as not to stir up an issue he cannot handle. I know Madumere as a man who talks less, makes little noise but very intelligent, intellectually sound and knows how to get what he wants.
May I also warn Onwuemeodo never to yield to the temptation of becoming a willing tool to attack Madumere. It is professionally incorrect to do so. Many people out there including myself would also want to know whether Sam Onwuemeodo is a Chief Press Secretary to the Governor of Imo State or to the Governor's son-in-law. This is to enable us address him appropriately when necessary.
Meanwhile, it is comical to read Onwuemeodo making comments on the meeting of governorship aspirants of All Progressives Congress, which include Prince Madumere, Senator Ifeanyi Ararume among others. Onwuemeodo should juxtapose a shenanigan where Governor sees anyone relating with other aspirants within the same party as anti-party. It is most disturbing for a man we thought went through the four walls of high institution. I even heard that those who refused joining him in the clownish endorsement shows of his son-in-law are not only humiliated but are sacked. It is a truism that no matter how powerful, no Emperor has ever lived forever neither has any government existed forever. How much less an ordinary man that can perish for very interesting reasons.
Engr. Sampson Udeh, a United States based Professional Engineer and Social Crusader, writes from Tennessee, United States of America