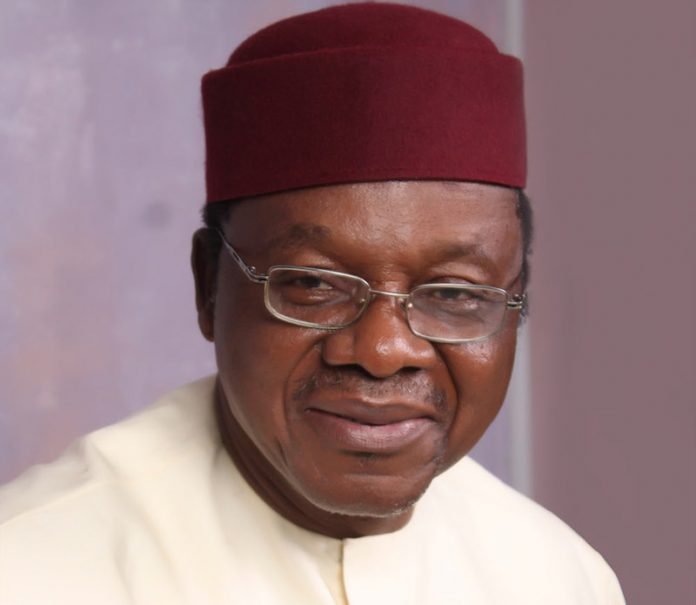 Professor Jude Ejike Njoku, a former vice chancellor of the Federal University of Technology (FUTO), was voted the 'Best Vice Chancellor in Nigeria' in 2004 because of his proven excellent leadership quality. He was also a former commissioner for Land Surveys and Urban Planning and commissioner for Education in Imo State. Njoku, in this interview with SABY ELEMBA, says he is the man Imo people are looking for to stabilise the politically-ravaged state and give governance a human face. Excerpts:
Why do you think you are the right person to be elected as the next governor of Imo State in 2019?
This is because I can add value to the quality of governance to Imo State and help to bring about the desired change that will usher Imo State into a state of prosperity and accelerated development. The reason I say so is that right now there is a clamour for change in Imo State particularly in the style of governance. A lot of people are not happy the way things are; Imo State appears to be ravaged by all kinds of mismanagement and people are not happy, they are clamouring for change, the change in the personal leadership and the change of the party that is in power in the state.
Giving my background and experience, I believe I have a unique opportunity to bring about the desired change, bring about prosperity, bring about development to our people so that Imo will begin to move again, begin to restore sanity in the state, begin to restore the dignity of Imo State because Imo has been debased and they have been dehumanised so that we begin to retool our psyche. And after all, we are all people of dignity and should also be treated with some dignity and we want also to accelerate the pace of development and development that is sustainable.
Nigerians think that you are only an academician; may we know more about your background?
Well, as you know I come from Owerri zone, I come from Ngor Okpala Local Government Area to be precise; the place where Imo Airport is located is my town. The airport is right at the back of my house, I can walk into the airport tarmac from the back of my backyard. And I think that with a very view that the next governor must come from Owerri zone since Owerri zone has not tasted the governorship of Imo State since the new political dispensation in 1999.
Secondly, I am a professor of agricultural economics at the Federal University of Technology Owerri (FUTO). I rose from the position of head of department to the dean of students' affairs and then the deputy vice chancellor administration and vice chancellor from 1990 to 2005 when I finished.
And also I had the opportunity of being appointed the commissioner for Land Surveys and Urban Planning in Imo State in 2007. In 2009, I was moved to the ministry of education as the commissioner for education. And I think if I could manage a very big organisation, a complex organisation for that matter like a University which is a microcosm of a state, everything you look for in a state or in a country is represented in the university. And if you are able to manage a university successfully then you can also manage a country. And you also know that in 2004 I was elected as the Best Vice Chancellor in Nigeria; that attested to the fact that I managed the institution very well to the extent that throughout my period there was no strike and we maintained steady academic calendar even when most other universities in the country lost one academic year. And we maintained a peaceful university, a progressive university that was why I got that award.
I worked well as a commissioner for Land Surveys and Urban Planning, we introduced this computerised land administration which was modified by the present government that was supposed to generate a lot of revenue for the state. And we tried to open new layouts that have been allocated and also acquired other lands for development.
And of course in education, I was the commissioner that masterminded the return of schools to missionaries which hitherto had been impossible for the administrations that were here before us and other achievements. So we had a lot to show for our outing as a commissioner in Imo State. And in think I have the knowledge and the capacity.
I have the experience, the majority, the capacity to govern this state and add value to the governance in the state. And stablise the state where people would be honoured and dignified and give human face to governance. Our people are now looking like people who are defeated and traumatised and we need to return their psyche.
If you do not know administration you don't know it. After politics is governance and governance is all about administrating the human and material resources. You need to be vast in administration. You recall if you read the Leader newspaper recently, the archbishop said Imo needed a seasoned technocrat to rewrite the wrongs that have been inflicted on people by the present administration. I think that is what I am coming to do and that is why it is me.
Prof, the party, PDP, the platform under which you are running is still battling with internal problems; how are you going to wade through the crisis?
Well, I think to a very large extent we are stable. You do not have a life without problems. There is no life with perfect peace. The only perfect peace that exists is when you die, so you cannot say that the party in Imo State has perfect peace, it has relative peace, relative to the situation that existed last year when there was serious factionalisation in the party. I know that there are few people who have yet not been accommodated but to a large extent the majority is settled.
There is still a move to see how some of those un-accommodated people can be accommodated in the party so that we achieve total peace.