A member of the Police Special Anti-robbery Squard, SARS in Owerri, the Capital City of Imo have been caught in camera, taking bribe from bloggers who were forcefully arrested by them.
The officer whose name is yet to revealed according to our source, was the anchor man who was meant to collect the money from the arrested bloggers who were members of the Online Media Practitioners Association of Nigeria OMPAN, on their way home after a two day National Convention in Owerri, Imo State
Information reaching www.otowngist.com, also has it that all plea by the bloggers to be released by the SARS officers proved abortive as it has been said to be the usual way of the officers to arrest and extort most young people they find with laptops.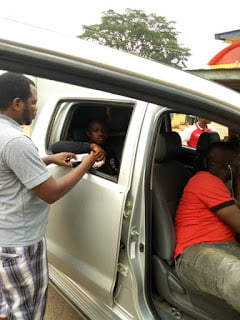 At the moment, the president of OMPAN, Mr. James Eme who is still in Owerri after the conference that ended on Saturday, March 31, 2018, when contacted, said he had reached the SARS officers and is presently working on the release of the members.
The arrested OMPAN members includes: Matthew Okache publisher of Voplink Media (www.voplink.com); Juachi Promise Ochu, publisher of profjay.com; George Messan Williams publisher Tourist Africa. Tv and Trinity Jesam, publisher of Detailing Cross River,
Recently there was an #EndSars campaign across the country as victims of various humiliation and intimations came out to call on the Federation Government to end the project which they said had done more harm than good to the nation.
However, another section of Nigerians were against the #EndSars campaign as they said that SARS is the only reason they can sleep with both eyes close. It was revealed that in such areas, criminal activities are the order of the day.