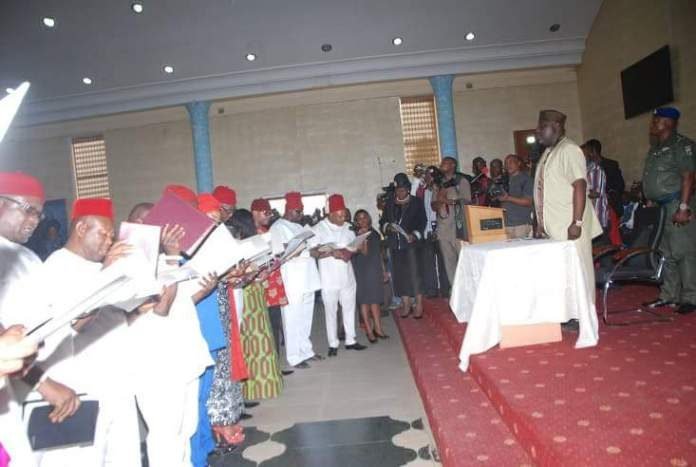 If information available is anything to go by, then it can be published that appointees serving under the Rescue Mission Government in Imo State led by the governor, Owelle Rochas Okorocha are experiencing difficult times at the moment.
Information gathered by this medium has it that the appointed Commissioners, Transitional Committee Chairmen, Senior Special Assistants, Special Assistants, and Advisers in the Owelle Okorocha's administration are starving following non- payment of their allowances three months after inauguration.
It would be recalled that the new appointees were inaugurated last December 2017 at an elaborate event at the Imo International Convention Centre, IICC, Owerri.
It was indeed a happy day for all the appointees as they were assigned with different portfolios. However, their joys have turned to sorrow as no allowances have been paid to them since then.
They are however faced with challenges like fueling of their vehicles, taking care of the financial needs of their households and people around him.
This has made them into wearing long faces for fear of being asked of money and other financial implications from followers and supporters.
As hunger envelops the public, so does appointees serving under Okorocha government who are experiencing hard moments even as the Governor throw millions of Naira for the endorsement of his son-inlaw, Uche Nwosu as Governor.
Some of the top appointees who spoke to our correspondent under strict anonymity for sake of job security after narrating their ordeals added that as Commissioner, he is one of the greatest debtors in town.
He said, "My brother, I cannot hide my feelings before you, I have not been paid since three months now after our inauguration. I don't know if Oga has forgotten we have families and relatives beckoning on us for survival".
He continued. "If not that I have a soft spot for this government, I would have resigned. But what will I do nah? I can't, especially now that elections are drawing nearer. We are just packaging ourselves to avoid public insults".
Meanwhile, relatives and friends to Owelle's appointees are said to be tired with regent excuses from their relations which puts a question mark on the relevance of their portfolios which is in contrary to what is seen in other States of the Federation