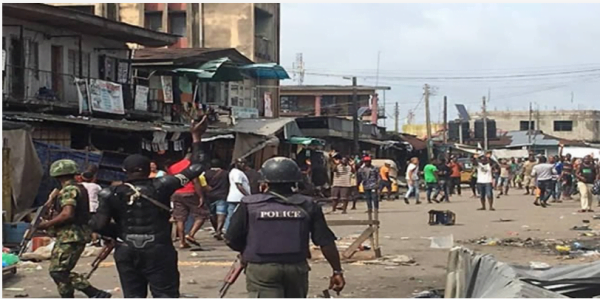 If the demolition of Ekeukwu market, Owerri, by the instruction of Imo State Governor, Owelle Rochas Okorocha was to chase away traders from the market, the entire exercise has come to nought.
Reason? a visit to the area yesterday showed that the major Douglas Road, which passed through old Ekeukwu market, has been converted to a full fledged market, by the traders who now display their goods on the road.
It is observed that the Douglas Road now has been turned to "Ekeukwu market", as it seems that majority of the Traders sacked from the market resolved to convert the Douglas Road to market.
The usually busy Douglas Road has no vehicles plying the road, as the tarred road is now for displaying of wares by Traders.
The Douglas Road is now like the popular Aswani Market in Lagos, as the area is now more dangerous than Jankara market also in Lagos.
All vehicles going to Douglas Road now stop at the post office junction by Royce Road, while the other end terminates at Mbaise Road junction, while the entire distance between Mbaise Road, to Post office is now the new bubbling "Ekeukwu Market".
A look at the demolished Ekeukwu market showed a sign Board with the inscription "Soto Shopping Mall", with some construction work going on in the covered site.
When some of the Traders were spoken to, they said they could not afford to pay for shops after Okorocha had demolished their stores, and therefore now display their wares on the Road for their customers.
They Traders maintained that they will never move to the new market at Egbeada, alleging that it is owned by Okorocha and family and therefore vowed not to pay their money to a man who rendered them homeless with the conviction that they would be forced to relocate to Egbeada after the demolishing Ekeukwu market.
:TRUMPETA