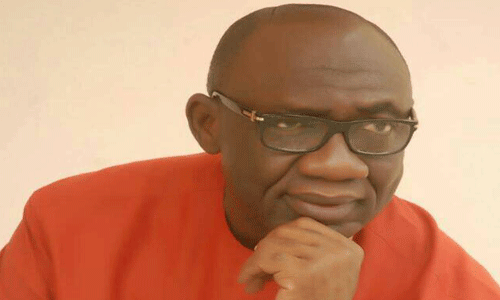 Immediate past Secretary to the Government of Imo State, Sir Jude Ejiogu has said that there was no need for him to do anything in life if he does not have a strong reason for doing so, adding that people make mistakes for not having visions before embarking on a journey.
He made this assertion on Tuesday in his country home, Umuakuru Emekuku Owerri North LGA while playing host to LGA Coordinators of "Sir Jude Ejiogu Mandate Support Group" for Orlu zone. He said that any vision without conviction is a day dream, and described his ambition to occupy the number one seat in Imo State as a moment for the future of Imo people.
According to him, "I am a man that needs strong reasons for doing something. When I was removed as Secretary to the Government of Imo State in March 18th, 2016, my Aides and friends cried bitterly, but to me, I knew God had taken care of my future. So, if I tell you that am coming for this or that, believe you me that the same God is the one directing. Today, I stand to tell you, whether you like it or not, I am the ordained person to take over from Dr. Rochas Okorocha as Governor and the case has been settled".
The erstwhile Chief of Staff to the Government of Imo State further assured that anything he becomes tomorrow, he would not hesitate to dedicate it to the good people of the state, saying that despite his flaws, Imo people had stood by him.
Hear him, "Governance is not winner takes all, the era where politicians see political party as a vehicle has ended, under my tenure as Governor, we shall see our party as a partner. I have no reason to fight Governor Okorocha, to the best of my knowledge, he has done well but as a human being, he still has his flaws. I am not contesting to be addressed as His Excellency, but I am seriously contesting to win because I have my pedigree, and it stands me out as the best candidate in APC and other political parties".
Continuing, Sir Ejiogu maintained that Imo State is a known fertile ground where the right person to harness it is still under contention, and pleaded with them to see him as the best candidate to transform the natural fertility to economic emancipation of the state, since he has gone round all governmental sectors within the period he served the state.
Speaking, Coordinator of the Support Group in Orlu zone, Hon. Stanley Obidiegwu expressed happiness on the profile of Sir Ejiogu, pointing out that Imo State needs his kind to take her to an enviable height.
He further charged the LGA Coordinators in Orlu zone to see themselves as Ambassadors of Sir Ejiogu in their respective areas, expressing optimism that it would be easy for them to market the former SSG in their areas, since according to him, he is a good product that needs less efforts to sell.
In their separate contributions, Evangelist Ihugba Obiona (Isu), Hon. Umai Innocent (Ohaji Egbema), Mr. Emma Madubuike (Ideato South), Dr. Anumudu (Oguta), Mr. Okey Anowai (Nkwerre) and Hon. Alex Ogwazo ( former Commissioner among others assured Sir Ejiogu of their readiness to ensure the message of victory was spread across every communities in the state, while calling on others to key into the vision for a better tomorrow for orlu people.