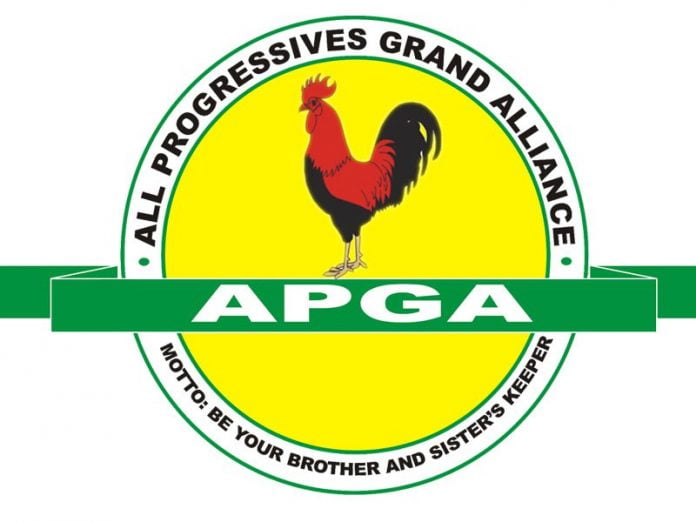 Weeks after the state wide All Progressive Grand Alliance (APGA) PVC sensitization tour in Imo State, the party under the watch of Barrister Peter Ezeobi and his state executive were deep in a strategic meeting with its- Governorship hopefuls at the Egbu road secretariat of the party penultimate Wednesday March 21, 2018.
The meeting which started about 1.pm according to Trumpweta Newspaper investigation is coming at the heels of fund raising launch by the rival political parties in the state namely the Peoples Democratic Party (PDP) and All Progressive Congress (APC) where they raised several millions of naira ahead of the 2019 general elections.
Although our information did not disclose whether the issue of fund raising was discussed at the gathering, but what took the centre stage at the meeting was how to strengthen the party so as to make it very formidable ahead of future electoral challenges.
The party our source disclosed also harped on the need for a strong synergy among contestants and the party to guide against internal bickering and rancor as the party strongly believes that it is the only tonic that it requires to win Imo State.
Trumpeta also reliably gathered that the state Chairman Ezeobi also talked against alleged speculations by party faithful of the plans of some aspirants to adopt both orthodox and unorthodox methods during the primaries. And described such actions as dangerous moves that could be detrimental to the success of the party.
Barrister Ezeobi who used that opportunity to officially constitute the body of APGA Governorship aspirants in the state, urged them to see themselves as brothers with one vision and goal.
In attendance were, Barristers Steve Nwoga, Barrister Philip Ibekwe, Barrister Charles Onyeagbako, Mr Frank Nneji, Barrister Humphrey Anumudu, Chief Okey Eze and Barrister Ike Ibe. While Dr Obi Njoku, Senator Bright Nwanne and Barrister Uche Onyeagocha were conspicuously absent.