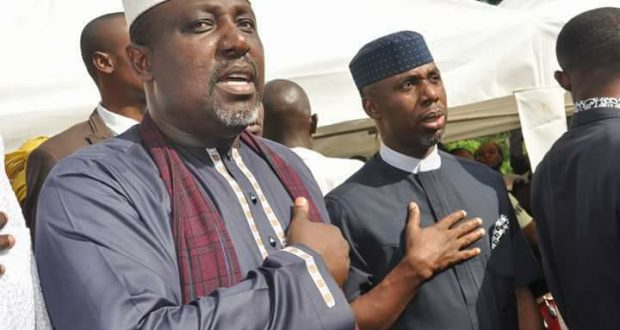 I have taken time to read a report as captured by a reputable Newspaper in the State, Community Watchdog Newspapers, wherein Senator Ararume accused Okorocha of playing God. The handsome Senator from Isiebu in Isiala Mbano LGA frowned at the statement credited to Gov Okorocha, wherein the latter vowed to Bring a trailer load of money should the humble Senator bring a pickup load of money. Expectedly, Senator Ararume wasn't also at home with the governor's anointment of his son in-law as his most preferred candidate for the 2019 gubernatorial election.
First, as a student of language, I know Okorocha's claim may not literarily mean spending the State resources to ensure that the humble Senator does not get the APC ticket at the primary election of the party. Rather it may mean more that the governor is ready to match the wealthy Senator contact for contact, man power for man power, strategy for strategy, structure for structure, especially as the leader of the party in the state. But the lion of Isiebu, being a smart politician, has made most of the Governor's figurative statement and has possibly scored some political points with it.
Perhaps, if the Senator and former governorship aspirant in the state had solely based his claim on the statement of Okorocha, I may not have deem it necessary to write this. But alluding to Okorocha's wish for Uche Nwosu to become the governor of the State to paying God is where I think the soft spoken Senator misfired. There is nothing wrong with Okorocha wanting to have his Son in-law as the next governor of this State. Uche Nwosu is constitutionally qualified to run for any elective position in the State and country. Being a son in-law does not controvert this right of his.
Indeed, Okorocha has not hidden his utmost wish and desire to hand over the barton of leadership to Ugwumba Uche Nwosu, he has said it countless times that he will like to see the youthful Nkwere born Philanthropist succeeds him. Okorocha's public endorsement of Ugwumba Uche Nwosu is not unconstitutional nor is it a crime, neither does it translate one playing God. Unless our Senator was telling us that he equally God when he endorsed Okorocha, few weeks before the 2015 government election. Did our Senator played God when he endorsed, supported, mobilize and possibly voted for Senator Benjamin against Senator Athan Achonu? Maybe my dearest Senator didn't know that if endorsement of an aspirant or a candidate implied playing God, he may have played an almighty God when he endorsed and ensured the victory of an awful Chiji Collins over the popular Lady Joy Mbawuike, for Isiala Mbano House of Assembly seat.
I am beginning to think that distinguished Senator Ararume, who is known and respected for maintaining dignified silence on political issues, may have recently surrounded himself with poor advisers, who are more concerned with what they get financially from the wealthy, than helping him shape his thoughts to suit the reality on ground. As a fan and secret admirer of the Isiebu born Chief, it baffles me that Senator Ararume, who should know better, the political practice in the country, made such an unguided statement. It has always been the norm in the country for any out going governor or president in the country to endorse a successor. Former President Olusegun Obasanjo anointed late president Yar'adua, Former Governors of Abia State, Governor Orji Uzor kalu and Ahamefula kalu anointed Ahamefula kalu and Okezie Ikpeazu respectively as their successors. Even in the last election of USA, the out going president, Barrack Obama didn't hide his support for Hilary Clinton, whose husband had ruled America. The good thing is that, it takes more than endorsement and anointment of a successor for the person to win. For every Hilary Clitton of USA, there is a Peterside for Nigeria.
Ugwumba Uche Nwosu is one man who has paid his dues in politics with loyalty, hardwork, consistency and smartness. Okorocha, knowing fully well that his successor must be one who has been thoroughly schooled in the politics of the State, may have reasoned that choosing Uche Nwosu was the best bet for him. Importantly, Uche Nwosu, unlike other anointed successors we have seen in the past, is not solely relying on the political strength of his godfather. He has been reaching out widely to the people, consulting quality brains and seeking advice from both the young and old in State. With the way he goes about his political ambition, one who is new in the State may doubt if he is an in law to the Governor. His meteoric rise in politics, and the massive support he gets across the 27 LGAs, evidenced by the overwhelming endorsements, has made him more popular, more as an independent aspirant than one riding on the back of a sitting governor.
Indeed, the political clout, gut, connection and intelligence of Senator Ararume cannot be rivaled by that of Ugwumba Uche Nwosu, but the popularity being enjoyed by the Chief of Staff, and which is gathering momentum, is enough to cause fears in his opponents' camp, and our dear Senator may have unwittingly given us the mood in his camp by publicly displaying fears over the endorsement of Ugwumba Uche Nwosu by Gov Okorocha. Senator Ararume should have known very well that the only way to stop the guber ambition of the governor's son in-law is by winning him at the primary election and Senator Ararume, who has won more primary elections than he had lost, should fancy his chances of getting APC ticket in the State. Unless, he is no longer in charge of the party in the State and Abuja, as his hopeful supporters would want us to believe.
Soon, everyone will head to the polls, to cast just one vote for their preferred candidates. Okorocha is entitled to one vote just like the Senator Ararume. It is not more about who Okorocha or any other person endorses, but who Imolites want and will vote for in 2019.
TRUTH IS BITTER, AS BITTER AS HONEY.