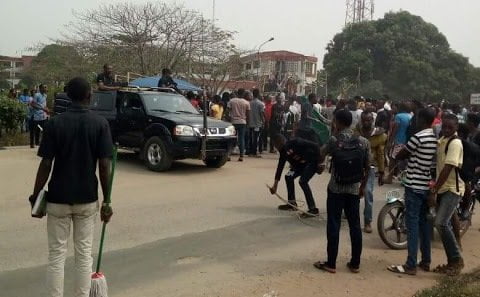 Tension was reported to have engulfed the Federal University Of Technology, Owerri (FUTO) community as students took to streets protesting exorbitant increments in school fees by the management of the institution.
According to sources from the university, the protest which has led to the closure of the institution till further notice saw to the damage of University properties like  Senate building, ICT Centre, and Diamond Bank sited inside the school premises.
Ifeanyicy.com learnt that fresh students for the  2016/2017 academic session will pay an additional acceptance fee of NGN 42,500 to the previous charges making a total of NGN 124,000 contrary to their 2015/2016 academic session charges of N90,800 or N88,300 depending on faculties. Same increase was reported to have affected other level of students.
"FUTO Year one (100L) School fees
Geology = (School fees) N50,800 + N40,000 (Acceptance Fees) Total= N90,800
Other Departments = (School fees) N48,300+ N40,000 (Acceptance fees) Total= N88,300"
We gathered that students still have to pay huge amounts for accommodation and course registration. A student claimed that fresh students pay more than NGN 20,000 for various course registration apart from school fees and acceptance fees.
Meanwhile, there was heavy police presence on campus to ensure that the students do not resort to breakdown of law and order, and to put a stop to the vandalisation of the school property.
However, students have been ordered to leave the school premises till further notice. The vacation order came from the management of the university as academic activities has being  closed down.
Source: Ifeanyicy